February 16, 2021
Newsroom
Isuzu received highest score in Supplier Engagement Rating Selected for the Leaderboard following selection on Climate Change A List
Isuzu Motors Limited (headquartered in Shinagawa, Tokyo; Masanori Katayama, President and Representative Director; hereinafter Isuzu) has been awarded a position on the Supplier Engagement Leaderboard, as it earned the highest score in the 2020 Supplier Engagement Rating from CDP*, a non-profit organization influential in the field of the global environment. CDP assessed more than 5,700 companies, and 396 companies, including 83 Japanese companies were recognized as a Leaderboard.
This is the first time for Isuzu to have been included as a Leaderboard.
Companies and organizations are assessed based on their supplier engagements in four categories of governance, targets, scope 3 emissions and value chain engagement. Isuzu has been included in the Leaderboard as CDP highly rated the company's initiatives in reducing CO2 emissions throughout the product lifecycle from manufacture to disposal, managing climate change risks and making efforts to foster supplier engagement.
This follows the award win last December when Isuzu was recognized as the highest A List ranking in the 2020 survey on climate change by CDP.
Link to press release dated December 9, 2020:
Isuzu received highest rating from CDP's research -Selected as an A List company in the climate change category-
With the goal of realizing a prosperous and sustainable society of 2050 and beyond, we formulated and published last March the Isuzu Environmental Vision 2050 which defines the goals of the Isuzu Group in regards to the environment.
Isuzu will continue to support transportation and the transition to a safe, decarbonized society together with customers and partners, while striving to support people's life and social production activities as a CV/LCV and Powertrain excellent company.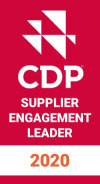 *

CDP is a global non-profit which requests companies and governments to disclose their initiatives to address climate change, safeguard water resources and protect forests on behalf of environmentally-minded institutional investors and major purchasers, and also motivates them to manage their environmental impacts through the process. At present, CDP's disclosure platform is one of the most valuable sources of information on the global environment. For more information, please click following link:https://cdp.net/en