February 9, 2021
Newsroom
Isuzu leverages connected technologies to establish rear-body monitoring system jointly with body builders - Offers total uptime support from chassis to rear body -
Isuzu Motors Limited (headquartered in Shinagawa, Tokyo; Masanori Katayama, President and Representative Director; hereinafter Isuzu) has been developing a new service made possible by connected technologies in the realm of commercial vehicles. Today, we announce the establishment of a monitoring system (rear-body connected)*1 which was established in collaboration with rear-body manufacturers in order to deliver a total uptime support from chassis (vehicle) to rear body.
Isuzu's advanced genuine maintenance program PREISM has been supporting customers' uptime ever since it was launched. The system monitors vehicle performance data such as engine and transmission in real time to proactively prevent failures, and facilitate a quick fix in the event of a failure or breakdown.
With regard to the rear body which is an important integral part of commercial vehicles, a system (rear-body connected) was developed jointly with Kyokuto Kaihatsu Kogyo Co., Ltd. (headquartered in Nishinomiya, Hyogo; Tatsuya Nunohara, Representative Director, President, CEO). Via a mobile communication terminal on the chassis, the system receives data needed to support and control the rear body of a vehicle including a truck with detachable container.
Through monitoring the operation and controlling status of the rear body, the system enables us to maximize customers' uptime by providing optimal maintenance and fast repair in the event of a breakdown.
In conjunction with the above, we continue to develop connected technologies for various rear bodies*2 such as garbage trucks, refrigerated trucks/reefers, bucket trucks, tailgate lifters, etc. jointly with rear-body manufacturers: Nippon Fruehauf Company Ltd. (headquartered in Atsugi, Kanagawa; Hiroyasu Hiruma, President), Aichi Corporation (headquartered in Ageo, Saitama; Toshiya Yamagishi, President, CEO & Director), ShinMaywa Industries, Ltd. (headquartered in Takarazuka, Hyogo; Tatsuyuki Isogawa, President & CEO), Toprec Corporation (headquartered in Chuo, Tokyo; Kimiyuki Ishikawa, Chairman (President)) and Ryoju Cold Chain Co., Ltd. (headquartered in Chiyoda, Tokyo; Noboyasu Okano, President).
Isuzu's own series of completely built-ups (CBUs) also will use this monitoring system to provide its PREISM supporting the chassis and rear body together.
As a pioneer of providing the system that connects commercial vehicles in Japan, we will leverage our connected technologies developed for MIMAMORI (fleet management system) and PREISM. By pursuing more partnerships and collaborative opportunities not only with body builders but also beyond industries, we are committed to support our customers' businesses and designing for a more efficient way of living and sustainable growth in the entire society. These are the missions we must undertake as a commercial vehicle manufacturer.
*1

Rear-body connected system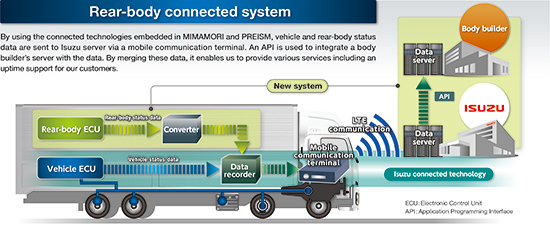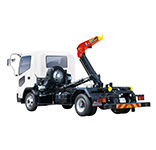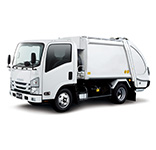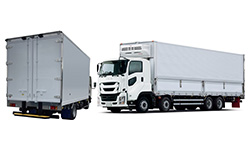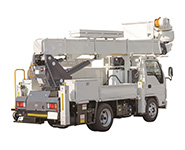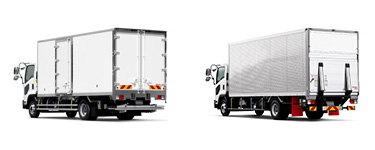 *

Above images are just examples. They are not to specify the body builder.