September 30, 2019
Newsroom
Notice on Publication of Isuzu "CSR Report 2019"
Isuzu Motors Limited (hereinafter called Isuzu), headquartered in Shinagawa-ku, Tokyo and headed by Mr. Masanori Katayama, President and Representative Director, has been issuing its CSR Reports today.
The CSR Reports have been issued to help you, the stakeholders, understand Isuzu Group's CSR activities. We hope that the communication between you and Isuzu will be promoted through the reports, and Isuzu's CSR activities will expand further so that you can place more of your expectations on them.
This year's report shows the progress of each of key issues identified last year, and also a third-party opinion about Isuzu's six fields of CSR activities newly determined by streamlining and integrating the previous activities. In addition, in order to improve the contents to be made public, this year's report is conforming to ISO26000, the guidance standard for social responsibility as well as the GRI standard that is an international guideline for reports on sustainability.
You can check the "CSR Report 2019" on Isuzu's website. Please be advised that we have discontinued to distribute hardcopies of the reports in order to save paper resources and to improve convenience. Consequently, available are only the pdf files of the reports.
URL of Isuzu's "CSR Report 2019"
Outline of the "CSR Report 2019"
[Message from the president]
The message from the President concerning Isuzu's CSR activities is shown.
[Company profile/Isuzu's CSR Activities]
The profile of Isuzu Motors Limited and its social responsibility are described.
[key issues for ISUZU]
The progress of each of key issues, set in 2018, is described.
[Report on each field of CSR activities]
The action plan, promotion system, results of the activities in FY2018, etc. for each of the six fields of Environment, Quality, Respect for Employees, Supply Chain Management, Regional and Social Contributions and Governance, are described.
[A third-party opinion]
The comment of Mr. Keisuke Takegahara of the Development Bank of Japan, is shown.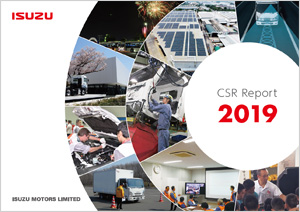 URL for the top page of Isuzu CSR website