Participated in Local Ecosystem Conservation Activities

Isuzu Motors promotes biodiversity conservation activities as part of its environmental initiatives. Each of our employees learns about the importance of biodiversity through ecosystem conservation activities on company premises and in surrounding local areas.
Ashio Copper Mine Forestation Activities
These activities have been held since 1996 to plant trees on the mountains of Ashio, which were spoiled by pollution from the smoke produced by the former Ashio Copper Mine. More than 25,000 volunteers including families from companies and schools within and outside Tochigi prefecture have participated in the reforestation activities to date, resulting in more than 100,000 young trees being planted. It is said that it will take more than 100 years for the greenery to fully return to mountains in Ashio, and Isuzu Tochigi Plant has been participating in volunteer-based reforestation efforts since 2015.
This year, we took part in activities on April 27. The participants climbed the steep mountains and, while planting young trees, were able to compare the gradual return of greenery with the parts of the mountains still spoiled by pollution. It was a valuable opportunity for them to be reminded of how important it is to continue these activities, as well as to be reminded of local environmental issues.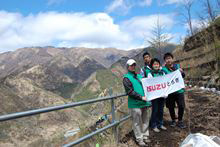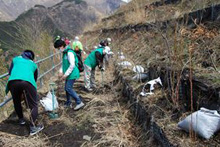 Watarase Reservoir Conservation Activities
The Watarase Reservoir is the largest wetland in Japan, straddling the four prefectures of Tochigi, Gunma, Saitama, and Ibaraki. It is a low-altitude wetland with the largest reed field south of Honshu, the main island of Japan, and is home to many endangered species that depend on the environment. In recognition of this rich natural environment, the Watarase Reservoir was recognized as a site of international importance under the Ramsar Convention on Wetlands in 2012. Having learned the importance of appropriate and sustained human management in order to preserve the natural environment for future generations, Isuzu's Tochigi Plant has been working to conserve the wetland since FY2017.
While carrying out various seasonal activities to protect the reed field, such as collecting garbage ahead of reed burning and removing non-native species, we are learning about the challenges of living in harmony with nature and getting to know the rich natural environment around us.
In addition to the activities carried out by the Isuzu Tochigi Plant above, the nearby TOCHIGI ISUZU MOTORS LTD., i-PACK Co., Ltd., ISUZU TECHNO CO., LTD. and ISUZU MOTOR SALES LTD. participated in work to remove non-native species on May 18, with 107 people from the Isuzu Group attending.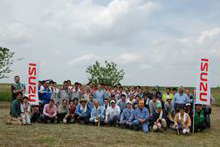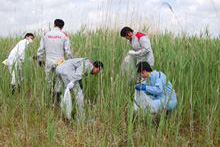 Kanagawa Prefecture Forest Restoration Partner Activities
Kanagawa Prefecture is carrying out activities to develop forests that supply water in order to maintain the health of forests in water resource areas and pass them on to future generations. Isuzu uses a large amount of water in its operations, and in recognition of the importance of groundwater conservation, in FY2018 we joined the prefecture's forest development project in a supporting role as a Forest Restoration Partner. We are now working together with Kanagawa Prefecture in a variety of activities to protect the forests that supply water. As part of this initiative, we are carrying out activities to conserve the prefecture's forests, and employees and their families are participating in forest thinning activities and nature experiences.
On June 8, a group of 28 of these employees and family members participated in activities such as forest thinning on damaged mountains.
By seeing first-hand through work as a family that taking care of the forest will make the mountain into a rich source of water, we are teaching the children who will lead the next generation about the importance of forest conservation.