Monozukuri Hands-on Workshop (Casting Class) held in disaster area (Minamisoma, Fukushima Prefecture)

Since August, 2014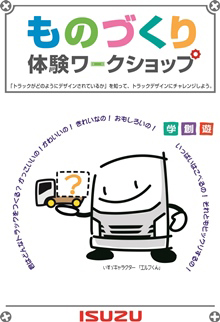 The "Isuzu Monozukuri* Hands-on Workshops" were held in the disaster areas under the concept of "Gaku, Sou, and Yu (learning, creating, and playing)" to teach the children the fun and significance of "monozukuri".
*

Monozukuri : Isuzu craftsmanship.
The workshop concept "Gaku, Sou, and Yu" means "Learning,
creating, and playing" in transport.

Employees engaged in manufacturing or development operations prepared this program with the purpose of giving children easily understandable lessons about their "monozukuri "activities as well as the significance of Isuzu's corporate vision of supporting transport.
November 19, Minamisoma City, Fukushima Prefecture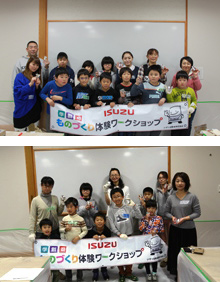 On November 19, in partnership with the NPO Frontier Minamisoma*, we held a casting class at Minamisoma City in Fukushima Prefecture.
*

NPO Frontier Minamisoma:
Launched with the aim of "doing what is possible now to rebuild disaster-stricken homes and conducting urban development for regional revitalization," this NPO's activities are connected to a wide network of communities. It has particularly strong ties with mothers and their children and the administrative authorities, and most of its projects are composed of activities concerned with people's daily lives and support for children.
Unfortunately it was raining on the day, but a total of 26 children and local residents took part in the morning and afternoon sessions.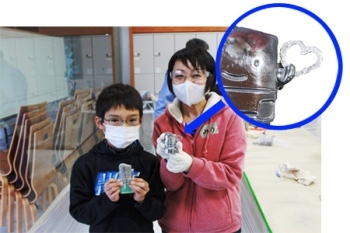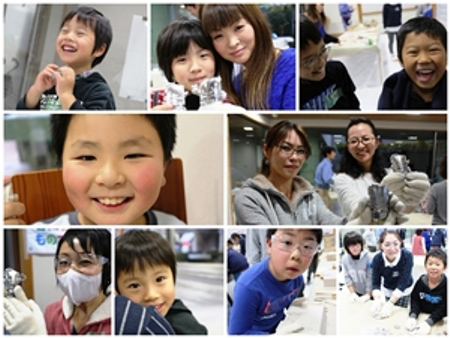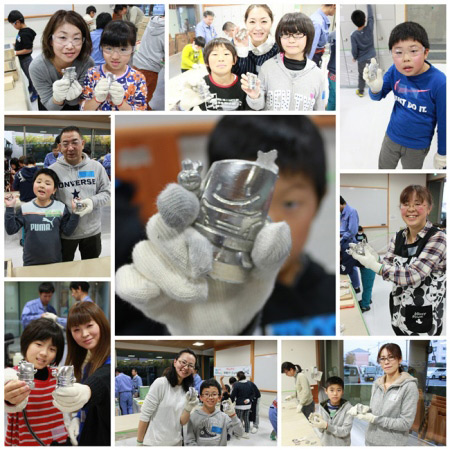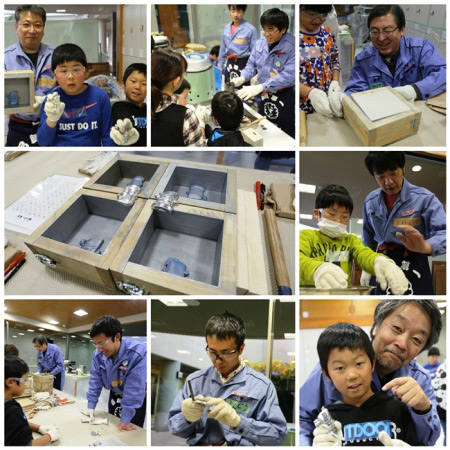 October 22, Minamisanriku Town Motoyoshi-Gun, Miyagi Prefecture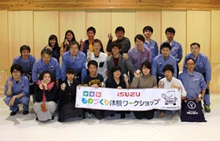 On October 22, in partnership with the NPO Sokoage*, isuzu held a Monozukuri Hands-on Workshop - Casting Class attended by 13 local high school students, former students and other local residents in the town of Minamisanriku town in Motoyoshi-gun, Miyagi Prefecture.
*

Sokoage:
An NPO with offices in Kesennuma and Minamisanriku that carries out activities such as awareness cultivation and learning support in collaboration with local high schools.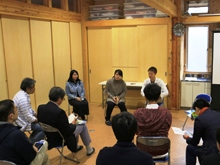 This time it became a very content-rich class as it also provided a space for interaction with local people, including some who were junior or senior high school students at the time of the 2011 earthquake and who talked about their experiences just after the disaster and their hopes for the future, which made the process of reconstruction feel more familiar.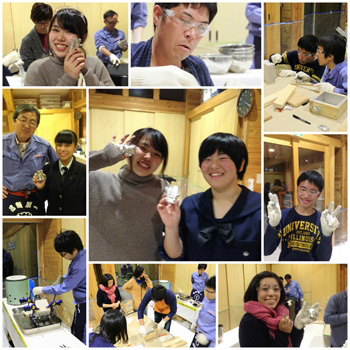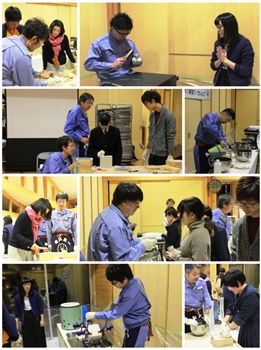 January 13 and 14, in Otsuchi-cho, Iwate Prefecture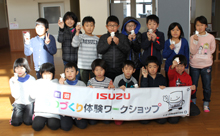 Through cooperation with the collabo-school "Otsuchi Ringakusya" run by the incorporated non-profit organization Katariba, Isuzu held a "Monozukuri Hands-on Workshop: Casting Class" at the Iwate Prefecture Otsuchi-cho Children's Center (January 13) and Otsuchi-cho Kirikiri Elementary School (January 14).
*

This was our tenth time holding a "casting class" since our first time in Minami-Soma in August 2014. There were 215 participants and a total number of 24 company employees who actually participated in this activity as instructors.
By casting Isuzu characters (Giga-kun, Elf-kun, Elga-chan) out of metal, Isuzu shared the value and joy of Monozukuri with children and people of all ages.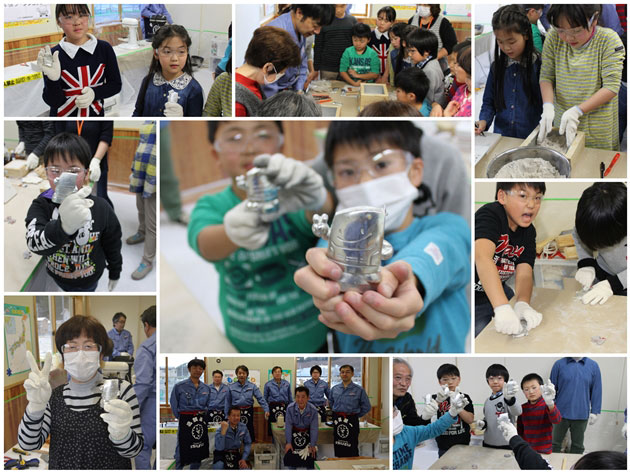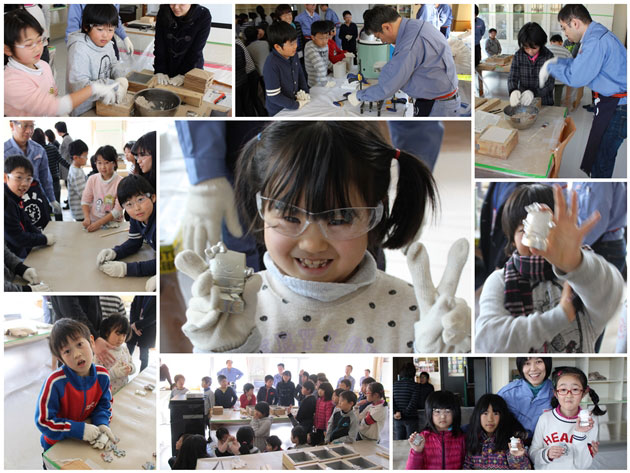 September 25 and 26, in Ishinomaki City, Miyagi Prefecture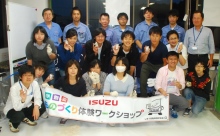 On September 25 and 26, in cooperation with an NPO active in Ishinomaki City, Miyagi Prefecture, Isuzu held a "Casting Class."
Together with staff from the specified NPO Switch*1 (September 25) and TEDIC*2 (September 26), students across a wide range of ages experienced the value and joy of Monozukuri by casting Elf-kun and other characters out of metal.
After the workshop ended, we received the following message of thanks from a co-sponsoring NPO staff: "Students who had previously looked for office work are now interested in production work. This class was a meaningful experience for them. "
*1

Specified nonprofit corporation Switch: an organization that supports high school students and young people in the disaster areas to find opportunities for education and employment.

*2

Specified nonprofit corporation TEDIC: an organization that provides educational support to elementary and middle school students in the disaster areas who have various problems (for example, they are no whereabouts in school or home).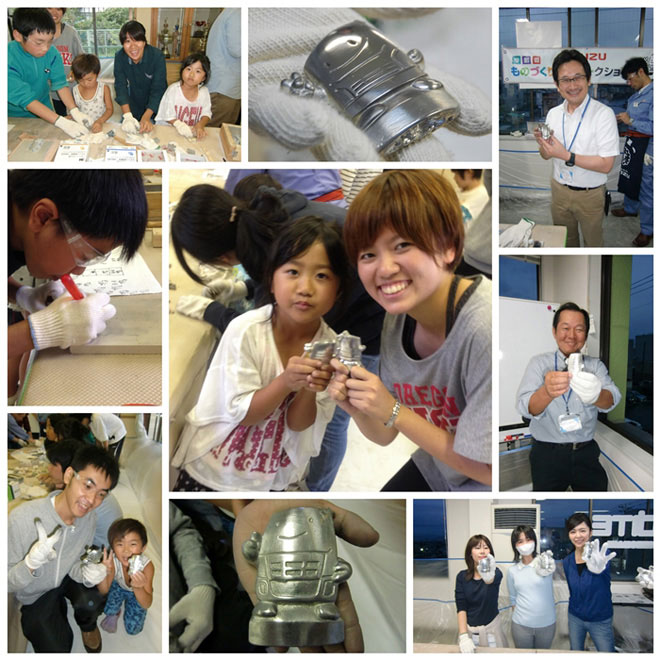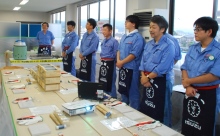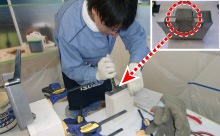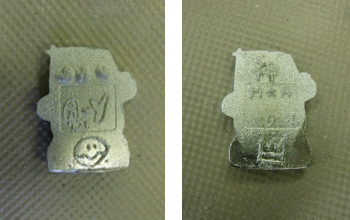 August 4 and 5 in Onagawa-cho, Miyagi Prefecture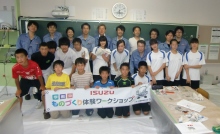 August 4 and 5 in Onagawa-cho, Miyagi Prefecture at the NPO Katariba' s "Collaborative School: Onagawa Kogakkan", Isuzu held a "Casting Class" with 63 elementary and junior high school students.
Isuzu improved the program this time by increasing the type of metal cast characters produced while also using a large cut-away engine to introduce the children to real, cast metal objects.
Isuzu held three of the classes over the course of two days, allowing many children to experience the full depth of metal casting as well as the joy of Monozukuri.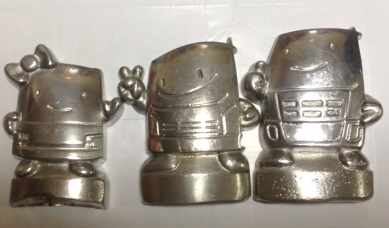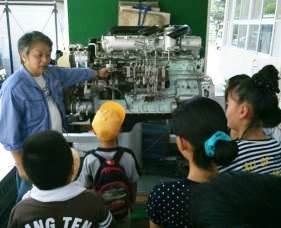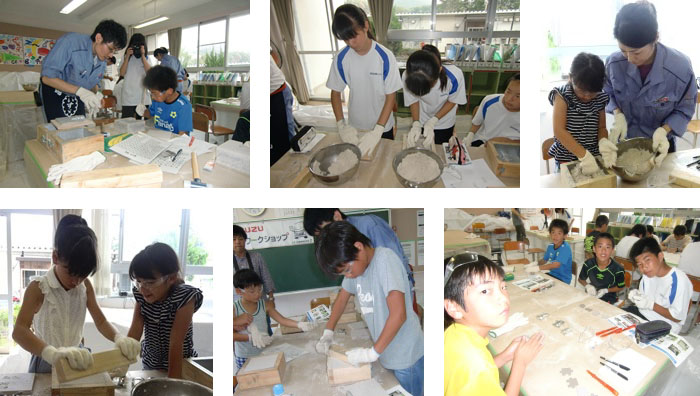 July 29 and 30 in Otsuchi-cho, Iwate Prefecture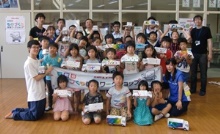 In coordination with the NPO Katariba's "Collaborative School: Otsuchi Ringakusha", on July 29 and 30 in Otsuchi-cho, Iwate Prefecture, Isuzu held a "Design Class" with 49 elementary school students.
This project was endorsed by Murakami Lumbermill (Rikuzentakata-shi, Iwate Prefecture), who created and donated car frames made of kesensugi (a famous wood from Iwate). Isuzu Manufacturing Division also provided "Elf-kun" magnets made of resin by Isuzu as souvenirs.
In addition, local high school students and college students participated as volunteers, making it a lively and fun class thanks to their and others' support.
*

Otsuchi Children's Center (July 29)

This facility was built to offer a safe and stable after-school environment for children who had no place to play around after the earthquake.
* Isuzu received thank you message from children of the Otsuchi Children's Center after the design class.

*

Kirikiri Elementary School, a municipal school in Otsuchi (July 30)

The school has a history going back to its founding in 1889. The tsunami after the earthquake came very close, but thankfully the school was safe. It was later used as a refugee shelter.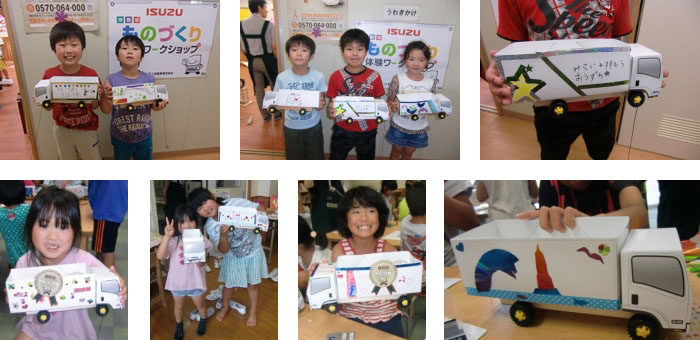 FY2014 Workshop achievements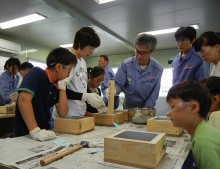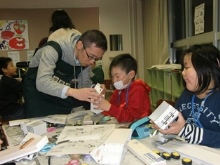 Isuzu currently offers two courses: Casting Classes and Design Classes. Members were organized internally to conduct the programs together with the groups to support children.
| | |
| --- | --- |
| August 2014 | Casting Class in the Minamisoma Solar Agripark (Fukushima) |
| December 2014 | Casting Class with the Beans Fukushima (Fukushima) |
| | |
| --- | --- |
| December 2014 | Design Class in the Collaborative School at the Onagawa Kogakukan (Miyagi) |
| December 2014 | Design Class with the Frontier Minamisoma (Fukushima) |
*

All of the workshops took place at the groups supported by Michinoku Revival Partners, which Isuzu joined in March 2014.
After spending time with bright-eyed children, Isuzu employees said things like, "We can learn from their creativity," "I want to do this again," and "I was moved."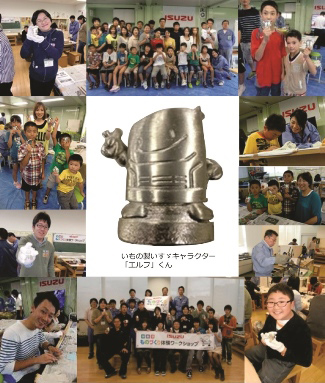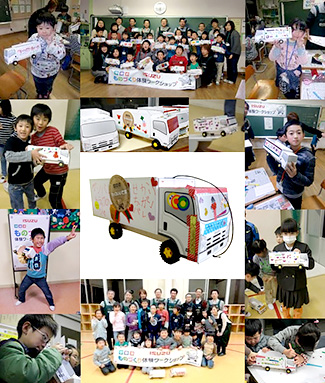 Employees who wish to show the children the significance and fun of "monozukuri" are planning to prepare new programs and enhance the content of the "Isuzu Monozukuri Hands-on Workshops".
Moreover workshops are scheduled to take place in other locations in communities around the Isuzu plants (Fujisawa and Tochigi) in addition to the disaster areas.