Held the first graduation and entrance ceremonies since the reopening of the Auto Mechanic Training Center in the Philippines. (Philippines)

Since November, 2008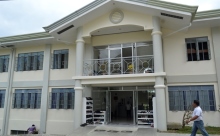 Since November 2008, Isuzu has conducted an educational program focused on disadvantaged children at a vocational school for auto mechanics under the TESDA* in Tacloban City on the island of Leyte, the Philippines.
*

Technical Education and Skills Development Authority
First graduation and entrance ceremonies since reopening (August 2015)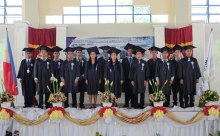 The Auto Mechanic Training Center (Tacloban city, Leyte Island, Philippines) received catastrophic damage from the typhoon that hit the country in November 2015. It was reopened in February 2015, and on August 24th, 2015, the first graduation and entrance ceremonies since the reopening were held.
All the 14 graduates received NC4 qualification, the highest qualification in the country, and began their lives as mechanics at sales companies and repair shops.
*

As of October 2015, 149 people have graduated with NC4 qualifications and now work as mechanics not only domestically but also abroad at auto sales companies and auto repair shops.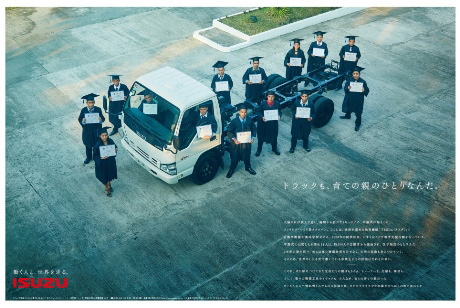 FY 2014 achievements (April,2014-March,2015)
Reopened Training School After Typhoon Haiyan
The training school was devastated by the typhoon Haiyan, which caused serious damage when it struck the Philippines in November 2013. The school was later reopened in February 2015 through restoration challenges along with local support groups.
67 students returned safely and attended the re-opening ceremony.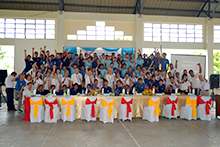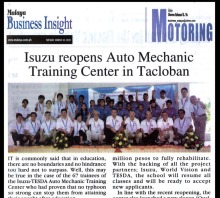 Great success of former students
Many students are certified with NC-IV, the highest-ranked national qualifications.
As of November 2013, the program has sent 135 students certified with NC-IV, one of the highest-ranked national certificates for auto mechanics. They are now playing major roles as auto mechanics at dealers and service shops in their own countries and in different countries around the world.
Former students won second place at I-1GP.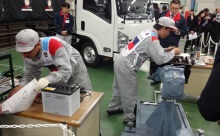 At the 9th Isuzu World Service Skill Competition* (I-1GP) in November 2014, two students who now work at a dealer in the Philippines were qualified at the local preliminary. They won second place in Category B (low EU emission country group).
Out of 36 participants in the national preliminary in the Philippines, nine were the former students. This is an endorsement of the achievements of this educational aid program even among other Isuzu operations in the country.
*

Highly skilled service staff members and mechanics are selected from countries and regions around the world to compete based on their engineering skills and knowledge. In 2014, 31 countries entered.
Isuzu will contribute to the economy and the development of the automobile industry in the Philippines by continuing its support, including the engineering aspects.