Isuzu Motors's Environment Management
Isuzu Motors has implemented an EMS (Environmental Management System) which is certified under ISO14001 in order to widely promote environmental stewardship across the entire business and value chain.
Coinciding with the revision of ISO14001 in 2015, Isuzu Motors integrated site-based environmental management systems into a company-wide system. In 2016, it extended the scope of its ISO14001 to encompass all its group companies, making the transition to ISO14001:2015.
As a result, Isuzu's EMS has streamlined business processes as well as various internal processes making it more efficient and effective in pursuing environmental activities.
ISUZU MOTORS LIMITED Environmental Policy
Isuzu Motors sets out its environmental policy to engage in company-wide efforts to preserve the global environment across all its business activities, and actively undertakes environmental activities based on this Policy.
Isuzu Motors acknowledge environmental preservation as an essential aspect of our corporate activity. As a leader in commercial vehicles and diesel engines, we strive to enrich people's life and make society sustainable through the development of environmentally-conscious products and services, and pursue a harmonious balance between global environmental preservation and business activity.
1

We pledge to actively and continuously improve our environment management system.

2

We look for ways to reduce the environmental impact of all our business activities and at every stage in the product life cycle to proactively prevent pollution and conserve the environment.

We aim to reduce greenhouse gas emissions and contribute to building a low-carbon society.
We stay focused on the future and pursue technological innovation to achieve vehicle manufacturing that is further in harmony with the environment.
We curtail the use of harmful chemical substances.
We advance resource conservation and 3R (Reduce/Reuse/Recycle) activities to promote a recycling-oriented society.

3

We strictly observe environmental laws, requirements and voluntary standards when conducting all our business activities.

4

Through an open dialogue, we regularly communicate with our stakeholders on environmental performance and leverage their cooperation to serve the local communities.

5

Through education and raising awareness, we aspire to foster an eco-friendly mindset in our employees as members of society.
Masanori Katayama
President and Representative Director
Isuzu Motors Limited
October 1, 2015
Environmental Management Framework
At Isuzu Motors, the system of promoting environmental activities is led by the company's President and Environmental Director, and the activities are promoted and carried out in accordance with its environmental policy.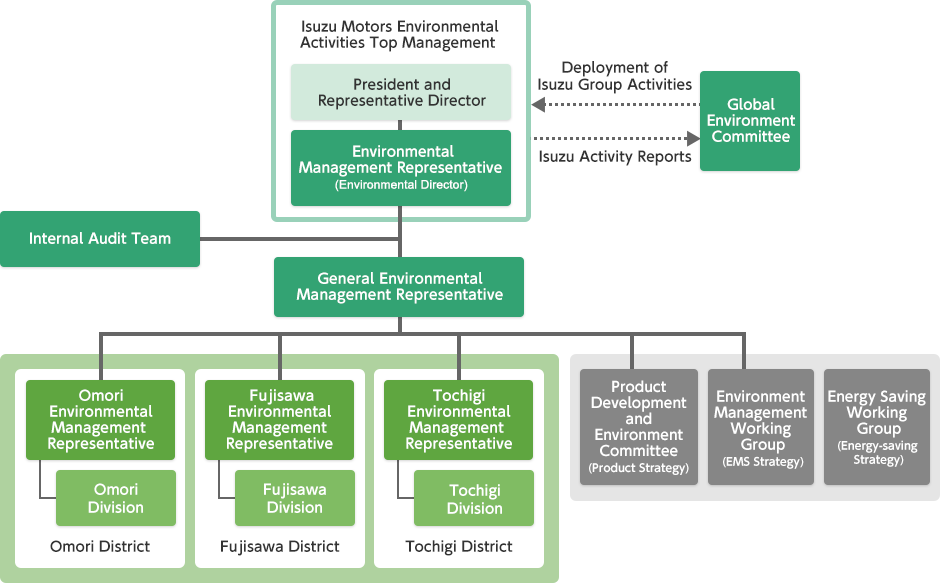 Isuzu Motors has formulated "Green Procurement Guidelines" to help guide all its business partners and suppliers to practice and promote green procurement activities.
For details of the Green Procurement activities, please see "Supply Chain Management" .