Access
Notice on Reopening of ISUZU Plaza"

To prevent the spread of the novel coronavirus, ISUZU Plaza has been temporarily closed. However, we will restart operations from July 1st.
Considering that the safety and security of our visitors are our top priorities, the measures taken for the procedure of entry, limitations of certain exhibits, and limitations of access to facilities, etc., are as follows.

◆Admission is by reservation only (includes Saturdays and public holidays).
◆Admission is limited to groups of less than 10 persons.
◆Each museum tour will be finished within two hours.
◆Visitors whose body temperature is over 37.5℃ will not be allowed to enter.
◆Visitors are required to wear a mask upon entry (Entry of visitors without face masks will be denied).

We apologize for any inconvenience this may cause you. Thank you for your understanding (as of June 22nd).
Address
Isuzu Plaza
8 Tsuchidana, Fujisawa, Kanagawa Prefecture, 252-0881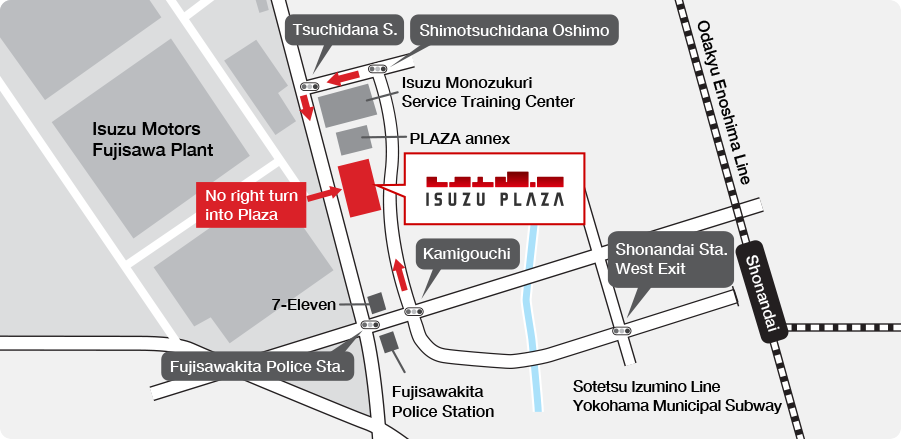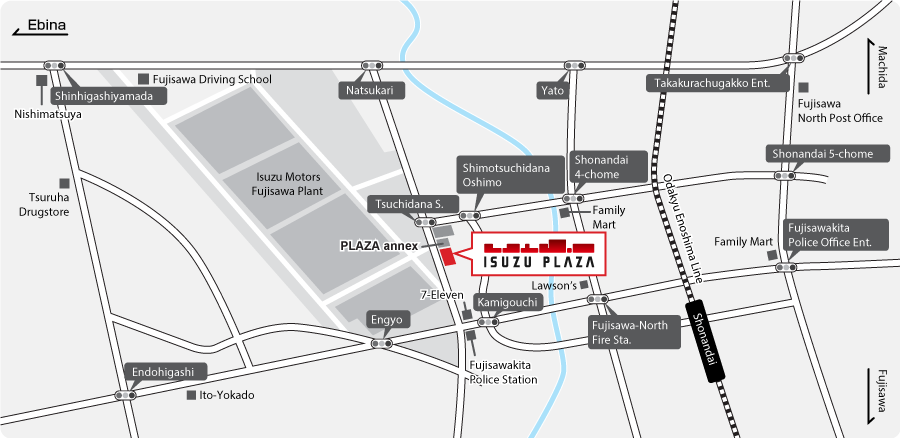 Route from Samukawa-kita IC Exit on the Ken-O Expressway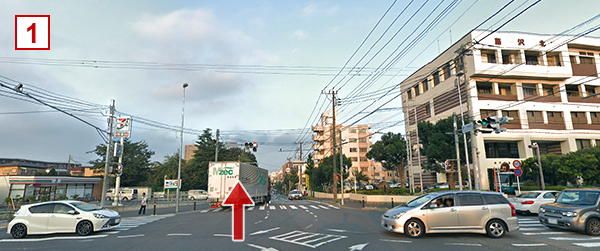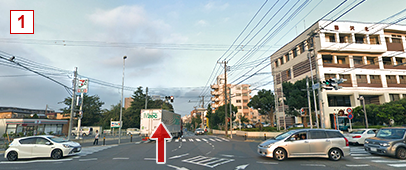 From Fujisawakita Police Sta. intersection, travel toward Shonandai Station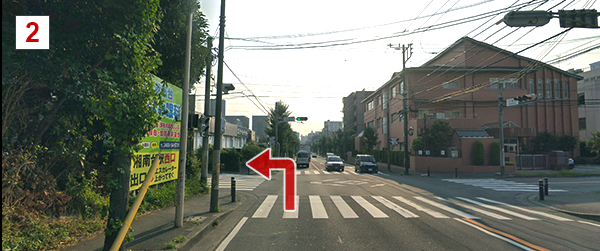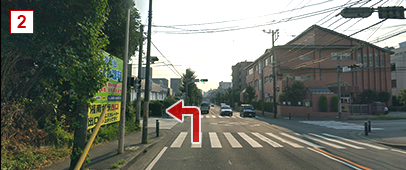 Turn left at the first set of traffic lights "Kamigouchi."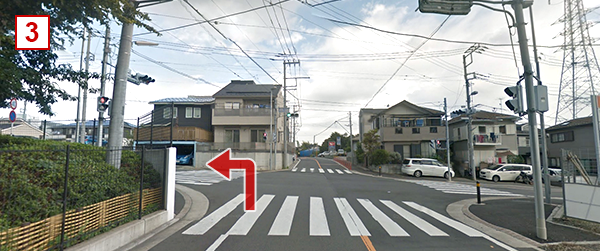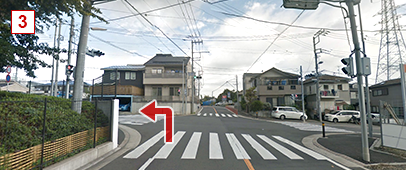 Turn left at the first of traffic lights "Shimotsuchidana Oshimo."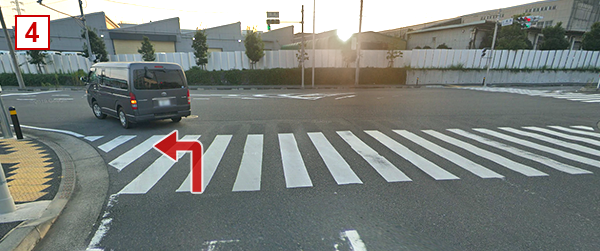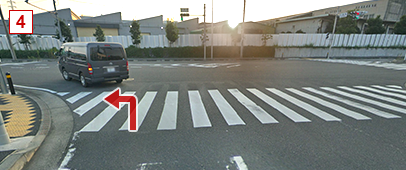 Turn left at the first of traffic lights "Tsuchidana S."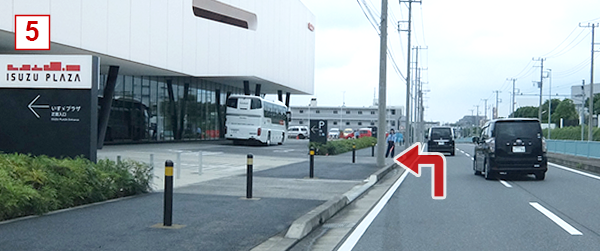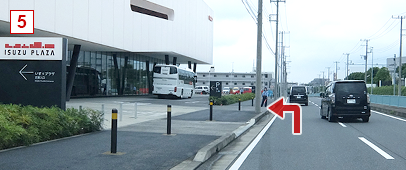 Isuzu Plaza Entrance
By Train
Take the Odakyu Enoshima Line, Sotetsu Izumino Line, or Yokohama Municipal Subway Blue Line to Shonandai Station.
A free shuttle bus operates from Shonandai Station (East Exit, Bus Platform 3).
*At crowded times, you may not be able to board the shuttle bus.
*The trip between Shonandai Station and Isuzu Plaza takes about 10 minutes.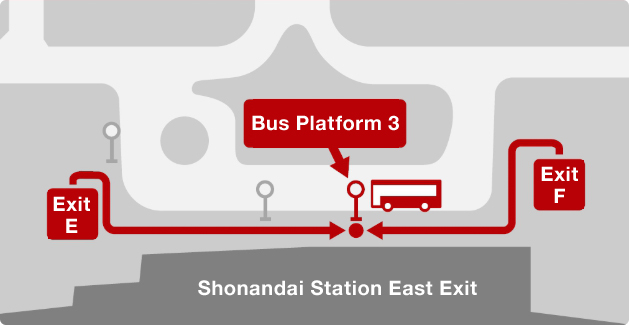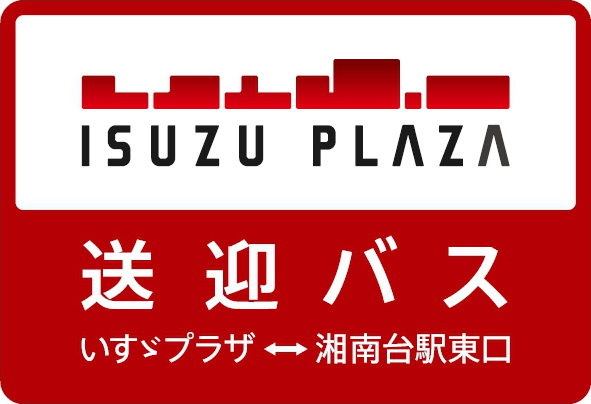 Take the bus with this mark from East Exit Bus Platform 3.
Shuttle Bus Timetable
Shonandai Station →


Isuzu Plaza

Isuzu Plaza

→
Shonandai Station
50
09
20
50
10
10
40
20
50
11
10
40
20
50
12
10
40
20
50
13
10
40
20
50
14
10
40
20
50
15
10
40
16
10
(Arrives at West Exit)
40
(Arrives at West Exit)
17
05
(Arrives at West Exit)
By Car
Approx. 10 km from the Ebina IC Exit from the Ken-O Expressway
Approx. 11 km from the Totsuka Tollbooth on the Yokohama Shindo
Vehicles may be turned away if the Plaza parking lot is full.
If coming to the Plaza by chartered bus, please inquire at the Plaza in advance.