Exhibition Vehicles
About closed days (8 / 14-8 / 23) during the summer vacation

Due to summer vacation, ISUZU PLAZA will be closed from August 14th (Sun.) to August 22nd (Mon.) , and August 23rd (Tue.) due to maintenance of the museum.
We appreciate your understanding and cooperation.
Notice on Reopening of ISUZU Plaza

Considering that the safety and security of our visitors are our top priorities, the measures taken for the procedure of entry, limitations of certain exhibits, and limitations of access to facilities, etc., are as follows.

◆Admission is by reservation only (includes Saturdays and public holidays).
◆Admission is limited to groups of less than 10 persons.
◆Each museum tour will be finished within two hours.
◆Visitors whose body temperature is over 37.5℃ will not be allowed to enter.
◆Visitors are required to wear a mask upon entry (Entry of visitors without face masks will be denied).

We apologize for any inconvenience this may cause you. Thank you for your understanding (as of March 18th).
1F Entrance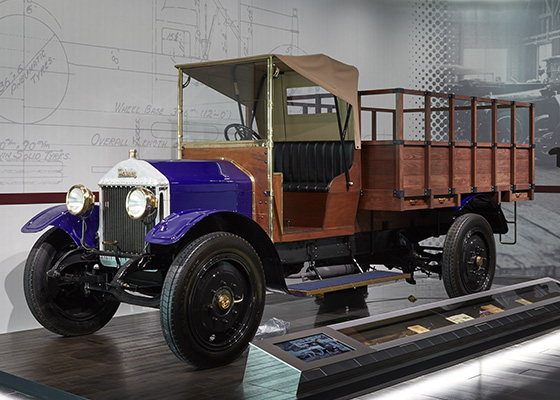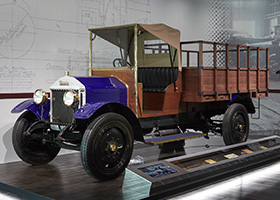 Wolseley CP Truck(1924)

The oldest domestically-built truck still existing in Japan, this vehicle is designated as a Heritage of Industrial Modernization by the Japanese Ministry of Economy, Trade and Industry for its contribution to the country's industrial modernization.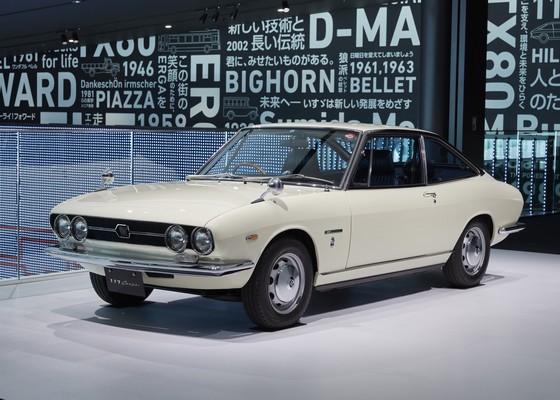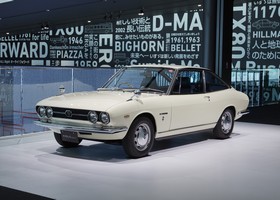 117 Coupe (1968)

The beautifully designed 117 Coupe was designed by Giugiaro, the Italian company Ghia, and in order to protect its beautiful design, the early stages of production were done by hand.
In 2014, as an excellent and famous car, it was registered in 2014 Japan Automotive Hall of Fame Historical Cars.
1F ISUZU for All Your Transportation Needs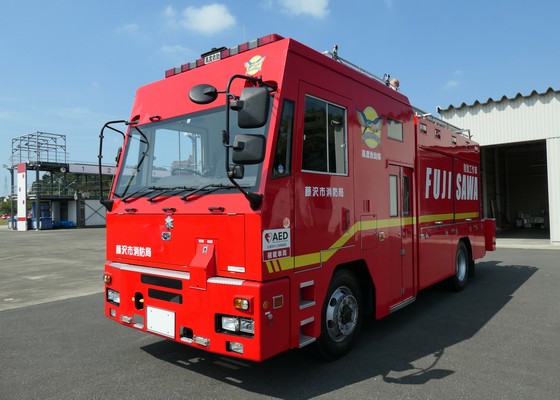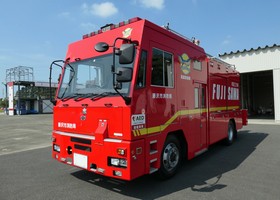 The rescue operation vehicle

This vehicle supports all kinds of lifesaving, from disasters such as fires and traffic accidents, landslide disasters, water rescue, and large-scale disasters such as earthquakes.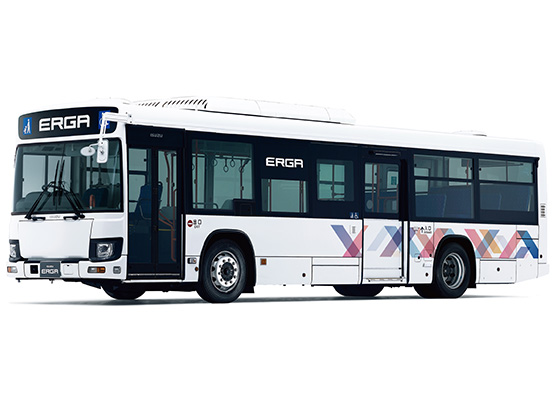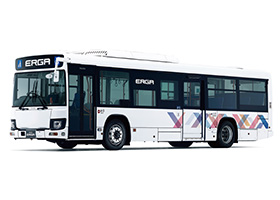 Large-Size Route Bus ERGA

The ERGA, a large-size route bus serving as an important part of public transportation, is a familiar vehicle of people's daily lives, based on universal design and complying with the Japanese Barrier-Free Transportation Law.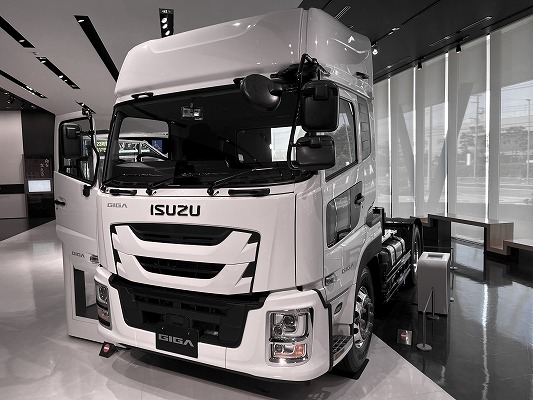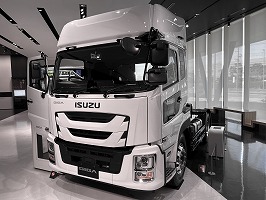 Heavy-Duty Truck GIGA Tractor

Excellent in environmental, safety and economic performances, the GIGA strongly supports the tractor transportation that is indispensable for mass transportation, through helping reduce driver fatigue and keep customers' trucks running with advanced telematics technology.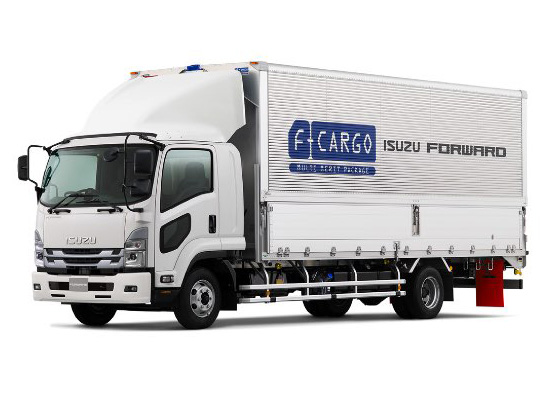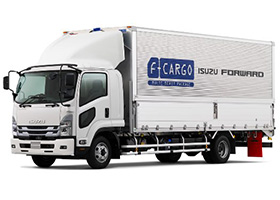 Medium-Duty Truck FORWARD

A versatile medium-duty truck used for various applications, such as trunk road transportation, urban delivery, and various construction and other works, the FORWARD has a wide range of models available, boasting its outstanding environmental, safety and economic performances.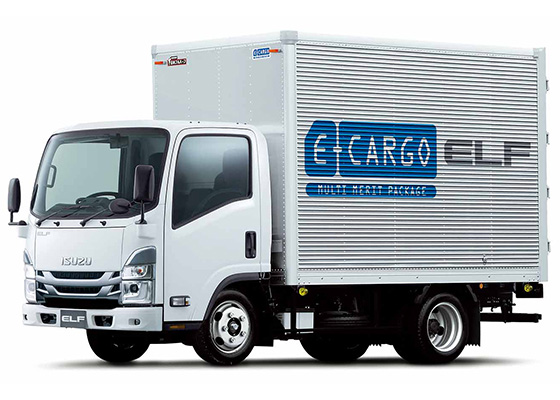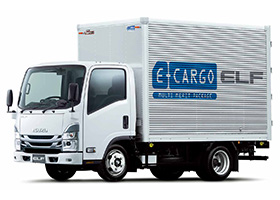 Light-Duty Truck ELF

The ELF, first launched in 1959, is a leading, top-brand Japanese light-duty truck, which has been continuously renewed with the state-of-the-art technologies, gaining a high reputation for its economic and safety performances, as well as for its reliability and durability.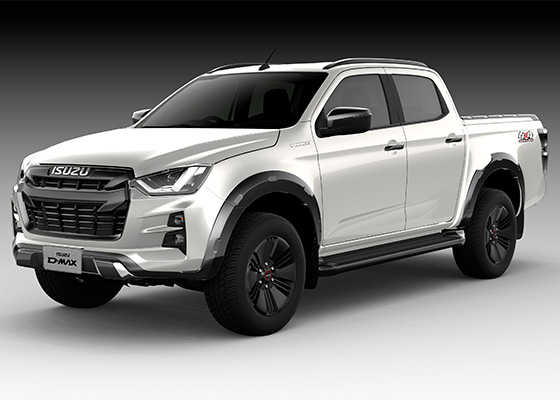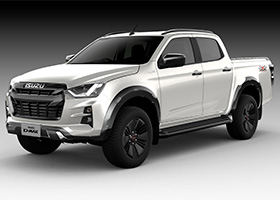 D-MAX

A one-ton pickup truck used for various applications globally, the D-MAX is produced in and exported from ISUZU's Thai production and export sites to more than 100 countries worldwide.
Exhibition vehicles outside the building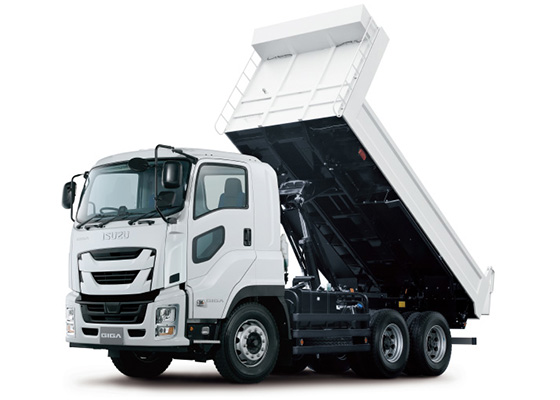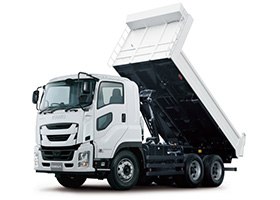 Heavy-Duty Truck GIGA Dumper

A working vehicle at various construction sites, the GIGA dumper truck transports gravel, sand, aggregates and other industrial raw materials.
2F History of ISUZU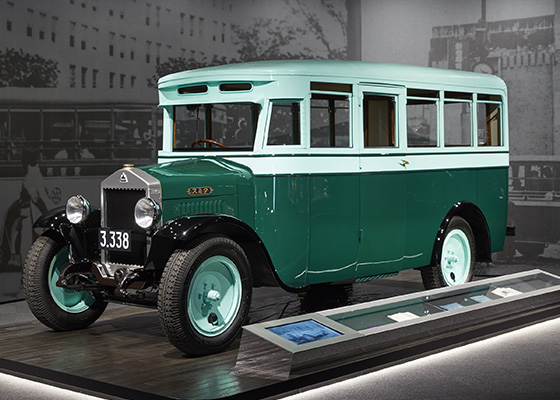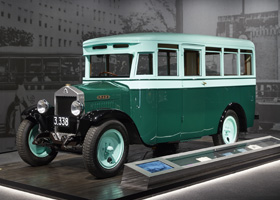 Sumida Model M Bus(1932)

The first transit bus manufactured in Japan, this vehicle is designated as a Heritage of Industrial Modernization by the Japanese Ministry of Economy, Trade and Industry for its uniqueness as the oldest domestically-built bus still existing in Japan and in a drivable condition.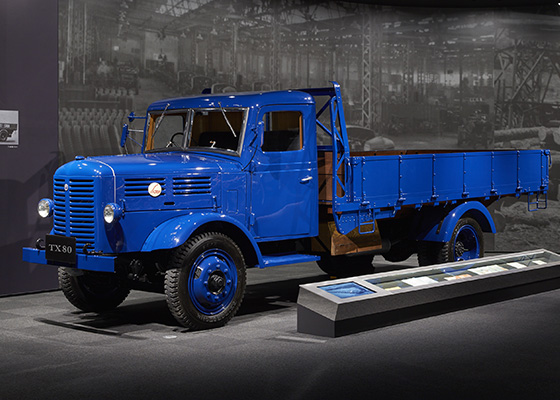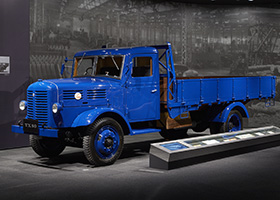 TX80(1948)

This truck with payload of five tons supported and contributed greatly to Japan's post-war reconstruction boom as a precursor of heavy-duty trucks for the long-haul transportation, serving also as the origin of ISUZU's heavy-duty trucks.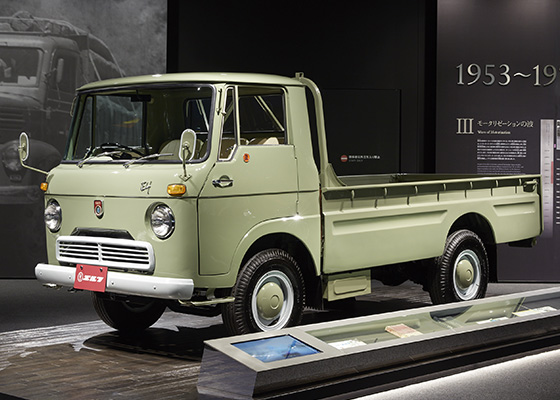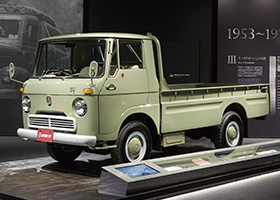 ELF TLD20(1963)

The first full cab-over-engine, light-duty truck with payload of two tons in Japan, the ELF was also the first light-duty truck manufactured by ISUZU, which had been known as a heavy-duty vehicle manufacturer, becoming the best-selling truck because it was capable of loading and carrying lots of goods.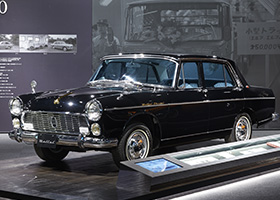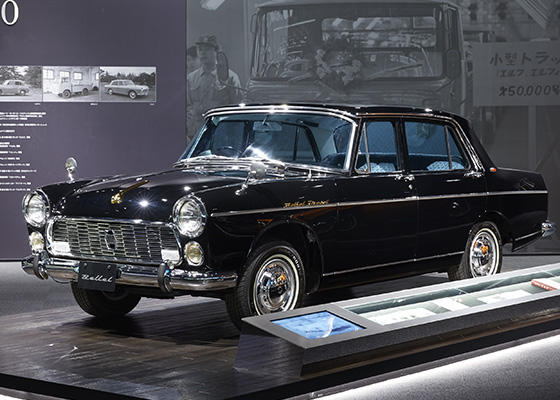 Bellel(1964)

The first passenger car totally engineered and produced by ISUZU, the Bellel was also the first diesel-powered, mass-produced passenger car in Japan. Due to the economic efficiency of its diesel engine, it was widely used for commercial applications, such as taxis.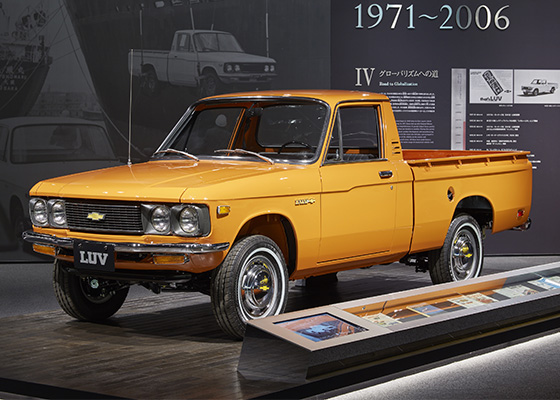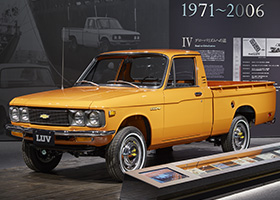 Chevrolet LUV(1972)

This pickup truck was the first ISUZU vehicle sold in America through General Motors' dealerships, based on an alliance GM and ISUZU formed; before that, ISUZU did not have any dealerships to sell its vehicles there. The Chevrolet LUV was based on the ISUZU Faster already sold in Japan.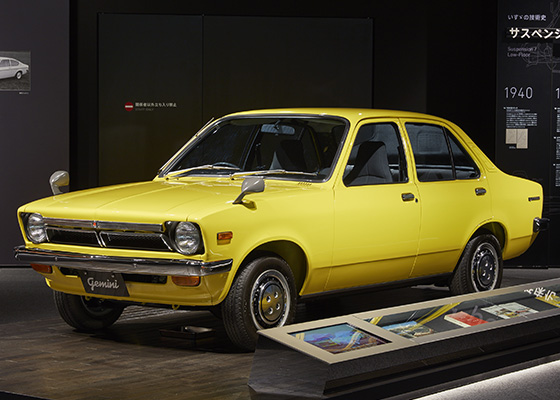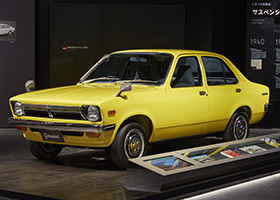 Gemini(1974)

Developed jointly by General Motors and ISUZU, the Gemini was named after the namesake constellation, intended to symbolize the cooperation between the two companies.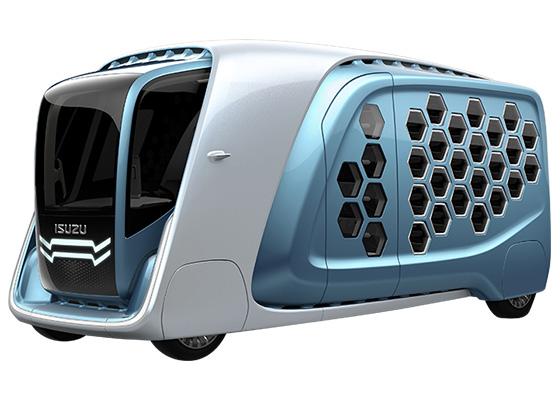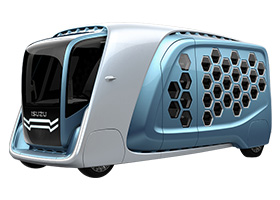 FD-SI

A design concept model embodying delivery in the future, the FD-SI represents an exciting version of future transportation in home delivery networks reviewed from new perspectives.
2F Special exhibition area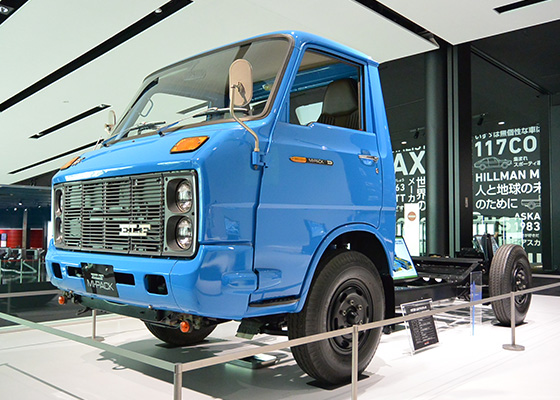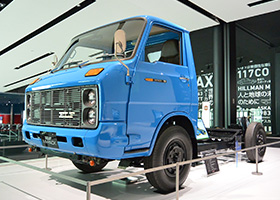 ELF MI-PACK(1972)

A ground-breaking model, ELF MI-PACK, is the first FF (Front-engine Front-drive) truck in Japan with an ultra-low loading floor, only 450 mm off the ground.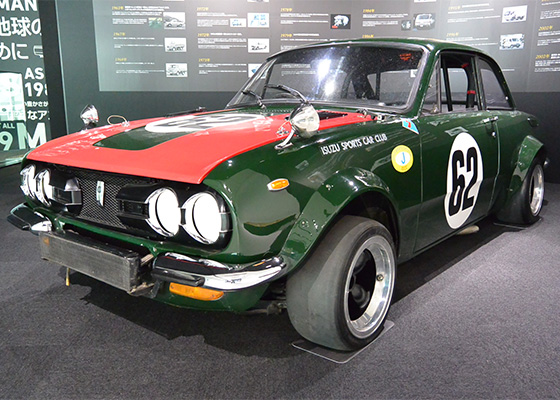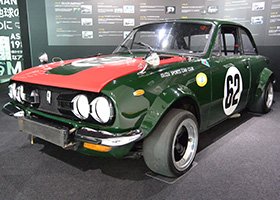 BELLETT 1600 GT-R(1970)

1970 BELLETT 1600 GT-R racing car. In 1969, the prototype BELLETT 1600 GT-X won the overall victory in Suzuka 12-hour car race.