About Isuzu Plaza
"Notification of re-opening"

Due to complete cancellation of Fujisawa city to the subject area of the application of the Semi-emergency Coronavirus Measures for Kanagawa, ISUZU PLAZA will be re-open from October 1st (Fri.), 2021.
We will continue a reservation-only policy, limitations of entry, limitations of certain exhibits, and limitations of access to facilities due to work on preventing further spread of infection of new-type coronavirus.
We apologize in advance for any inconvenience and ask for your understanding.
Notice on Reopening of ISUZU Plaza"

To prevent the spread of the novel coronavirus, ISUZU Plaza has been temporarily closed. However, we will restart operations from October 1st.
Considering that the safety and security of our visitors are our top priorities, the measures taken for the procedure of entry, limitations of certain exhibits, and limitations of access to facilities, etc., are as follows.

◆Admission is by reservation only (includes Saturdays and public holidays).
◆Admission is limited to groups of less than 10 persons.
◆Each museum tour will be finished within two hours.
◆Visitors whose body temperature is over 37.5℃ will not be allowed to enter.
◆Visitors are required to wear a mask upon entry (Entry of visitors without face masks will be denied).

We apologize for any inconvenience this may cause you. Thank you for your understanding (as of June 22nd).
Objective of Establishment
Isuzu Plaza opened in April 2017 next door to Fujisawa Plant as part of the 80th anniversary celebrations of Isuzu Motors.
Isuzu Plaza presents the role of commercial vehicles, Isuzu's manufacturing of vehicles as a leader in transportation and operational support, and the history of Isuzu. It aims to be a facility that will make visitors feel close to Isuzu. Holding manufacturing workshops and guided tours of the facility, it will play a role in connecting with the local community.
Isuzu Plaza Concept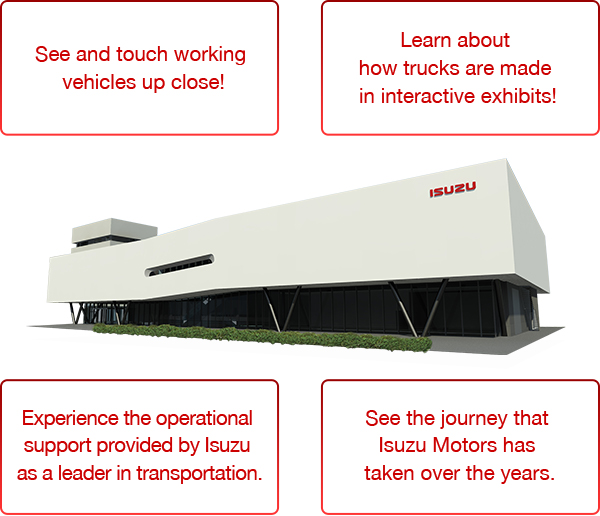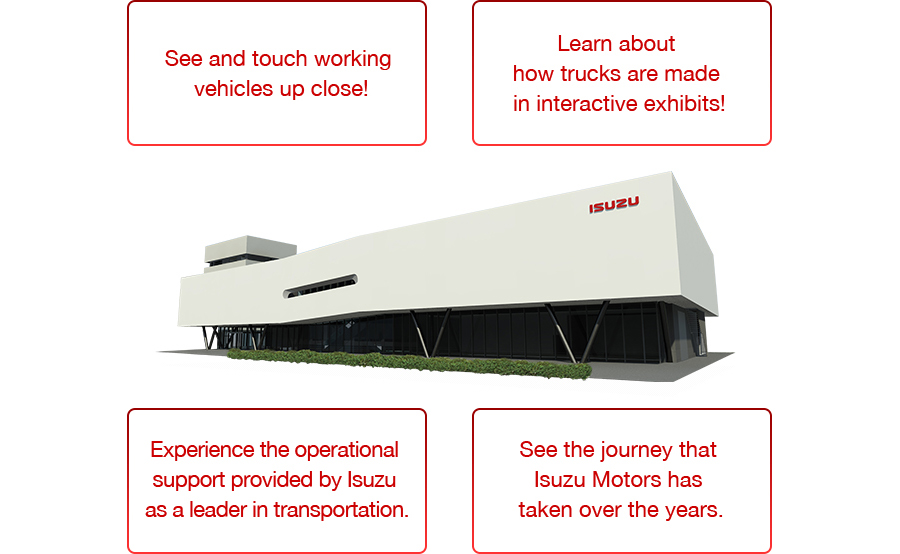 About the logo
The Plaza's logo is a graphic representation that blends the two motifs of "Isuzu's diverse product range" and "people's lives supported by Isuzu." It symbolizes the connection between society and Isuzu.
With Isuzu Red, the corporate color of Isuzu Motors as the base color, the gradating color scheme expresses the harmony between Isuzu and society.